URBAN INFILL HOUSING - SIX TYPES | West Little River | Miami
TYPE 1 - The Caterpillar
The house sits on a lot that has four 100-year old Mahogany trees. As a result, it was important to slide the house in between the existing landscape. Due to the scattered location of the trees the house is split and mirrored and thus forms a 'Z' shaped plan. The two legs of the 'Z' contain the private areas, while the main body contains the living, dining, and kitchen areas. The shape of the plan defines two gardens - a semi/public court on the street and a private garden to the rear.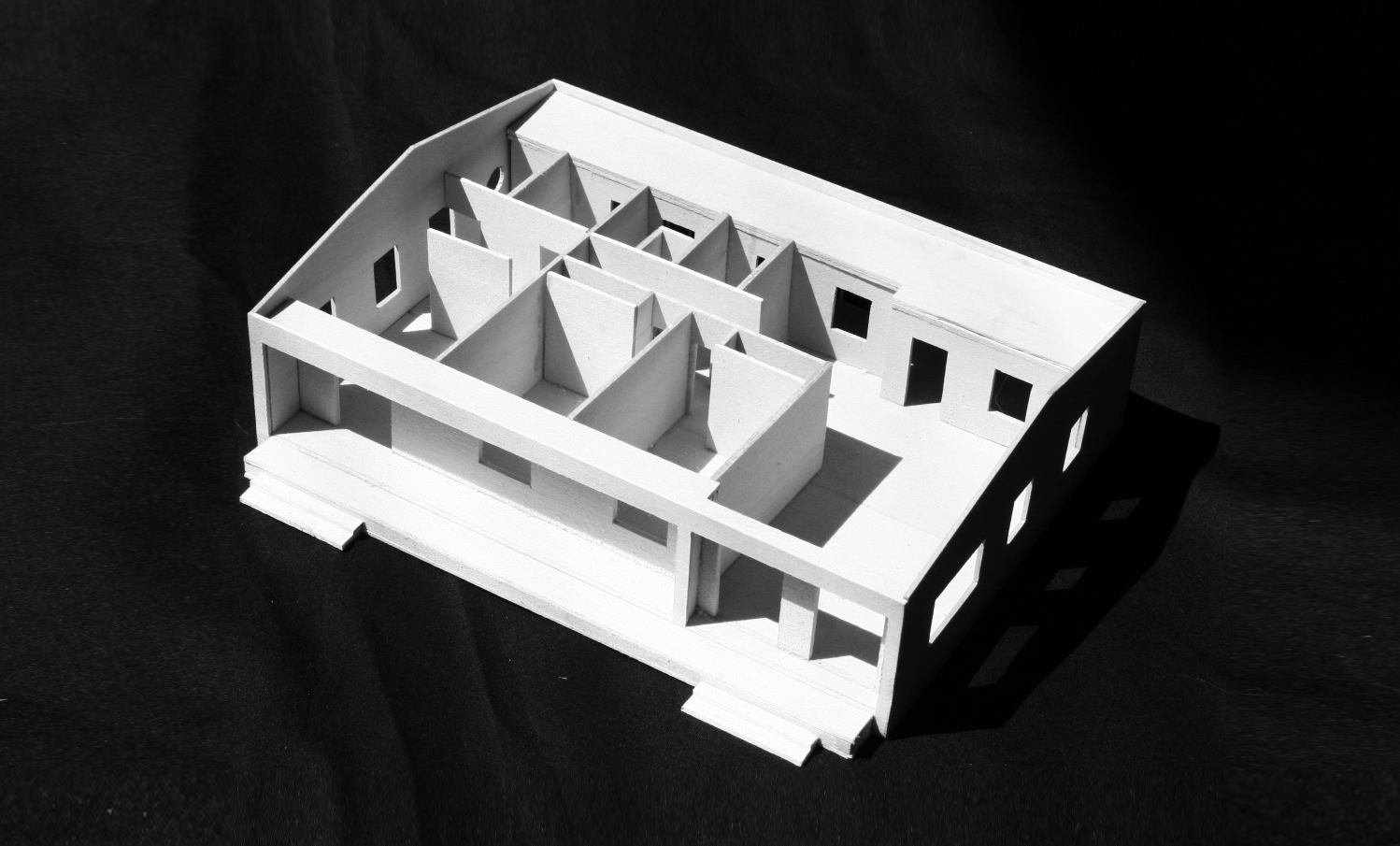 TYPE 2 - The Dragonfly
The house sits on a 75' x 90' lot. The width of the lot allowed for a long façade towards the street and rear yard. The spatial organization is divided into a living area that extends from front to back, a utility core that spans the front length of the house and a row of bedrooms towards the rear yard. The front and rear facades are lined with bamboo screen porches.
TYPE 3 - The Grasshopper
The house sits on a typical 50' x 100' Miami lot. On the ground floor the stair divides the public areas of the house from a bedroom, while on the second floor the stair sits across a bathroom and between two other bedrooms. On the west facade, a car-port and an eyebrow on the second floor protect the interior from the Florida sun. A portion of the porch is screened off with shutters/louvers and a mosquito net.
TYPE 4 - The Bumble Bee
This project is a duplex townhouse. The plan is a variation of the Grasshopper (Type 3) with some manipulations due to the depth of the lot. One of the main differences is that this proposal is deep enough to receive porches towards the street on both floors. The initial desire for the main facade is to avoid a reading of two mirrored units side-by-side. Small shifts and overlaps are implemented on the front porches. These formal manipulations suggest a horizontal movement, which hides the inherent vertical division. Color is used to delineate architectural elements on the elevation.
TYPE 5 - The Butterfly
The house is situated on a 40' x 100' lot; the narrow lot inspired a shotgun house typology. The program distribution is contained within a narrow footprint of 17'. The sequence of rooms is split in the center by a stair and bathroom core. An extrusion in the facade creates a double height front porch with a small balcony projecting from the 2nd floor bedroom. Color is used to accentuate features of the façade.
TYPE 6 - The Ladybug
Situated on a 50' x 100' lot, the organization is based on ventilation and privacy. The plan consists of two strips of activities stretching the length of the house with the carport attached. The Florida Room is introduced as the first room experienced, returning to the concept of a transitional indoor/outdoor family room.